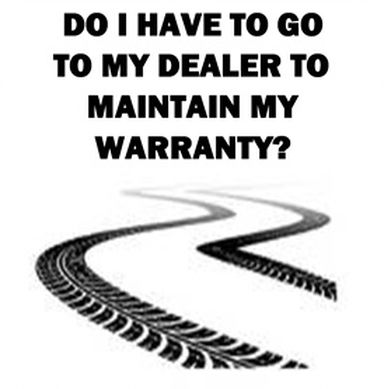 Let me start by answering the most common question I am asked on a weekly basis.
"If I do not have my car serviced at my dealership will this affect my new car warranty?"
The answer is No! Having your car serviced at an alternate service centre will not affect your warranty. This is provided the service is carried out by qualified mechanics using genuine parts.
Customers that ask this question are often prompted after having received a letter from their dealership, where they have purchased their new vehicle. The letters often sound ominous and contain such words as 'Your warranty will be voided' or 'with our Mechanical Protection Plan you need to ensure it's maintained ONLY by our Service Department'.
What consumers need to be made aware of is that your new car Manufacturer Warranty is not held by the dealer. It is held by the Manufacturer and cannot be cancelled simply because you have had your log book service preformed by a qualified Mechanic or Technician using the same, if not better parts, than what the dealership has used.
I am then asked the question,
"What about my Extended Warranty that the dealer gave me as a bonus when I purchased my car?"
Dealerships give you Extended Warranty product/plans to retain your service over the whole Warranty period. What consumers are not aware of though, is that they charge you extensively for each service. They often fail to mention that the Extended Warranty product is only worth a maximum of $3,000 in total claims or they put it in tiny writing so it does not stand out.
I recommend you sit down and do the sums on what the 'Free Warranty' really offers you. Here is my explanation you might find helpful:
Let's say you have your service every 6 months at Seven Slot Off Road or any alternate service centre:
we save you anywhere between $150 – $300 per service
your Extended Warranty may run for 3 years, which is 3 years past the 3 years Manufacture Warranty period.
this means you have saved between $1,350 – $2,700 and this is only in minor log book servicing.
So, with these above points in mind and the maximum value of $3,000 in claims permitted with your gifted Extended Warranty, it is also important to know that you can only claim up to $1,000 per claim, with a maximum number of 3 claims – on limited items. This is in the small writing part too.
As with Factory Warranty, Extended Warranty regulations also state the consumer must comply by having their vehicle service carried out by a qualified mechanic with appropriate parts as per the manufactures specification (Competition and Consumer act 2010).
The Dealership cannot impose you, the consumer, the freedom to choose. This is called 'Exclusive Dealing' and is against the Competition and Consumer Act 2010 law.
Ask yourself 'do I need a warranty where I am getting told who I have to use and how much money I have to spend for my vehicle service?'
Most cars do not have major faults that occur after the Manufactures Warranty has expired, so long as you regularly maintain your vehicle according to the log book, using the recommended/preferred parts and qualified mechanics to do the job.
If you have any more questions or would like to know more on this topic, you can email todd@sevenslot.com.au or phone (07) 3801 8185.
For further consumer protection assistance refer to the below link:
https://www.accc.gov.au/contact-us/other-helpful-agencies/consumer-protection-agencies