Seven Slot Off Road 4WD Adventures
Seven Slot Off Road Adventures trips are designed to gather like-minded off roaders and 4WD enthusiasts to experience road trips and off road trails of all varieties. There's no catch, just bring your trusty vehicle, your family, even your pet dog (if permitted on grounds) and your sense of adventure.
We would like to note that although we are Jeep enthusiasts, we welcome ALL 4WD lovers from all over and are keen to share 4×4 vehicle knowledge and experiences.
Seven Slot Off Road have a keen interest in driving style escapes and making the most of life, so why not join us. Register your interest by emailing sarah@sevenslot.com.au to keep informed of upcoming trips.
Sunday, 4 December 2016
South East QLD Jeepers End of Year Shindig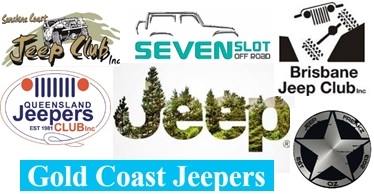 Seven Slot Off Road would like to say a HUGE thank you to everyone that made this event a success. It was great to see everyone get together and end the year on a high note. We are pleased to say we raised $546.05 for Act for Kids from the raffle and BBQ. Thanks again to Chief Products Korr Lighting, WARN, JeepFreakz OZ, Airbag Man and Jeep Action Magazine for the cool prize donations. May 2017 see many more friendships formed, trips run and having fun! Please view a compilation of fantastic photos from this trip in the Seven Slot Off Road Facebook page via this link.
Sponsors